News Archives
New fitness trail officially open at CCGA brunswick campus
Posted 11/20/2015 07:03AM
By ANNA HALL The Brunswick News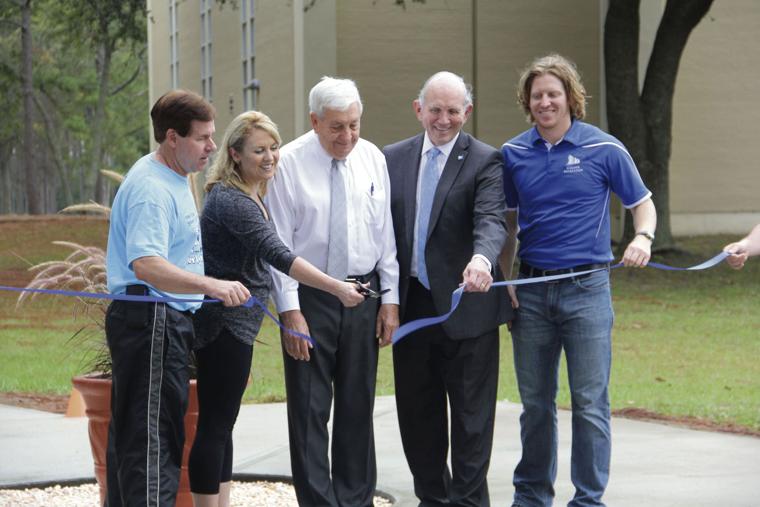 It was the first time Greg Aloia had issued a "gobble and go" call.
Standing before a crowd of runners and joggers on the College of Coastal Georgia campus, Aloia, president of the school, roused the group with an enthusiastic "on your marks, get set, gobble and go" and then sounded a horn to signal the official start of Thursday's Turkey Trot race for students and staff.
Heading Aloia's charge dressed head-to-toe as a turkey was freshman Idorico Sebastiao, who was ready to run, waddle and do whatever it took to get him around the 1.5 mile course.
Joining the turkey-clad Sebastiao for the race were about 50 students and faculty members who took part in the event.
Now in its 40th year, the autumn trot is likely the longest-running annual event for the school, having originally started in the 1970s and having evolved over time, said Andrew Smith, director of student activities for the Brunswick campus.
Unlike some community races, the Turkey Trot follows its own tradition for calling out winners. No watches, phones or digital time-telling items were allowed, and racers are required to race with a partner. They estimate their combined running time before starting the race, and the top three teams that finish nearest to their predicted estimated times win special prizes.
A trophy and recognition were offered to the top three male and female participants with the fastest times.
"This event has really grown over the years and become a favorite annual tradition for our staff and students," Smith said. "This has become one of, if not the, longest-running tradition on campus."
The trot was marked by another celebratory moment for the college. Aloia officially cut the ribbon on the campus' new one-mile fitness trail.
The loop runs throughout the college campus, creating a connected exercise ring that includes access to the campus' dock, lake, a picnic spot and its resistance training area.
"This new trail will increase access to our campus and help us increase overall wellness for our students, staff and the community as a whole," Aloia said, noting the trail is handicap accessible and open to the public.
Facilities and plant operations director Gary Strickland and his crew have been working for about a 18 months to piece together designs for the trail and make it a reality.
Having the all-weather concrete loop now ready for a run, walk or bike ride is an occasion worth celebrating, said Teresa Peeples, assistant professor of physical education at the college.
"It's so nice to have one continual trail where everyone in the community can come and get active."
Garrett Rundle, a college sophomore and an Augusta native, was an active member of track and cross-country in his high school days and that running habit has carried over into his college years. He ran the Turkey Trot last year and again this year.
"It's cool that we now have this more formal space to get out and get running without worrying about mud and dirt and all that," he said. "I've already seen a lot of people out here using it. I'm sure I'll be out running it all the time."
One issue Aloia and Smith have about the trail is the lack of lighting.
Especially in the fall and winter months when it gets darker sooner, having lights would increase safety for the pathway. Already, Aloia is in talks with campus staff about having lighting installed, he said, though no date for completion has been set.