News Archives
College of Coastal Georgia students host gaming competitions, anime screenings
Posted 10/23/2015 09:50AM
By ANNA HALL The Brunswick News | Posted: Friday, October 23, 2015 12:10 am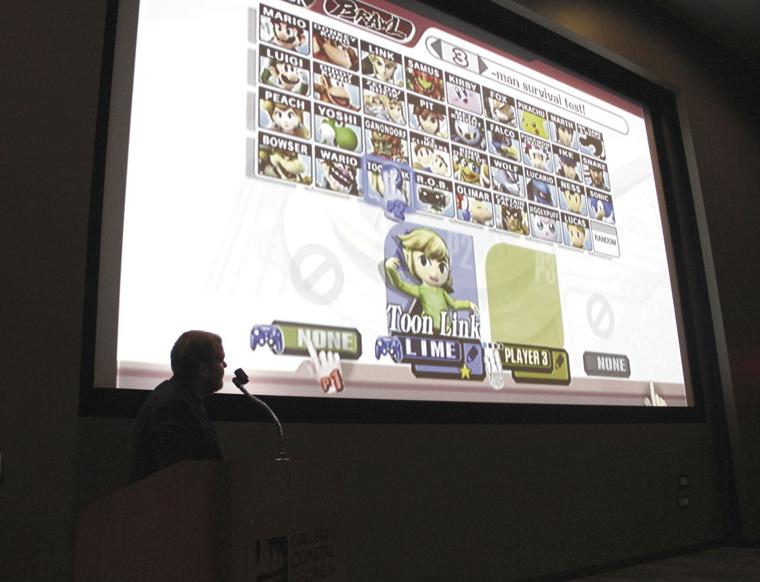 Students at College of Coastal Georgia take part in a Super Mario Smash Bros. video game tournament on the big projection screen in the college's Stembler Theatre.
.
Chris Smith wrangled up a rowdy group of his fellow College of Coastal Georgia students to play video games in a way they never had before, this time on a movie screen, and prizes came with the deal.
During the third annual International Game Day at the college, college students came together to play one another in the video game tournament thanks to the the Anime and Video Game clubs.
Duking out odds over the Smash Brothers video game, a crossover fighting game published by Nintendo, competitors pressed their buttons and saw their characters battle on the big screen of Stembler Theatre to see who had the best control skills late Thursday.
At one point during the virtual battle, among huge rounds of cheers, claps and praise, Malika Mosley won her fight over a fellow student. The win, she said, was much to her own surprise.
"I haven't played these games in, like, forever," she said. "I mean, I haven't even ever played this one game before. Maybe I just got lucky."
The event includes anime movie screenings at Gould Library on the college campus, as well as a range of game play.
"We didn't want this to just be video game days of play," Smith said. "We wanted to include a couple of options so no matter what your gaming interests, you could be involved. Along with our video games, we'll have table top play and board games."
Much of the draw comes from the virtual side of the events, when students can play out their characters on a movie screen in the theater in the college's student center.
"It's not every day you can play a video game on a huge movie screen," Smith said.
Smith expects fellow students to be drawn in by the uniqueness of the festival, the only of its kind at the college, he said.
"As you can tell by all the noise, we're having a good time," he said. "This isn't an everyday event, but we do hope to make it an event that happens every semester. From the excitement we see growing every year, I think we are in a great place to see that happen."
The final portion of the gaming competition and festival will be today at the college's Brunswick campus. An International Game Day with table top games will be held from 5 to 10 p.m. today at the Gould Library.
An anime screening is scheduled from 5 to 9:50 p.m. today at the Nunnally Health and Science Building, across from the Gould Library, with one of three different films shown every 50 minutes.
Both events are free and open to students at the college and to the public.