News Archives
Lady Mariners basketball team preparing for 2015 season
Posted 10/21/2015 09:00AM
By MICHAEL HALL The Brunswick News | Posted: Thursday, October 22, 2015 12:00 am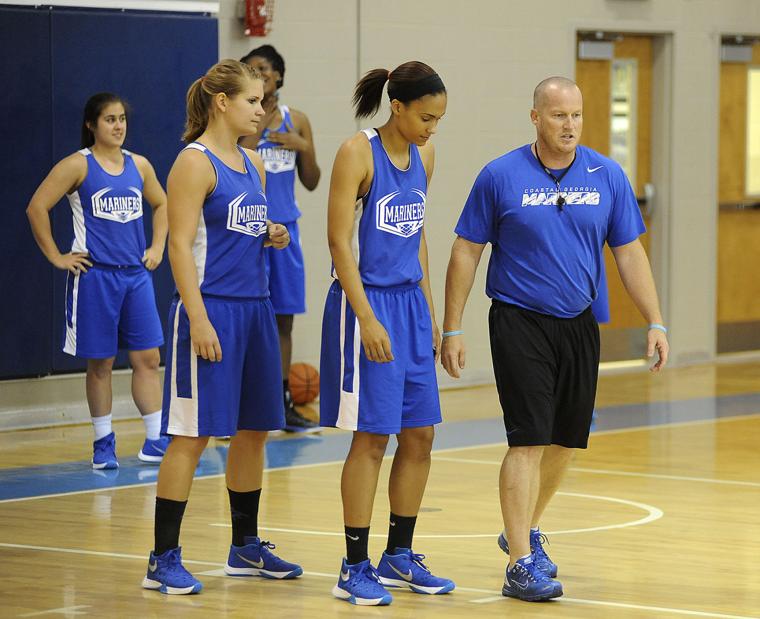 College of Coastal Georgia women's basketball coach Jonathon Barbaree leads his team through drills at practice Wednesday. The Lady Mariners have a much different roster for the upcoming season than they did last year.
It is rare a team that lost a majority of its players can rebuild and get better, but that may be the case with this season's College of Coastal Georgia women's basketball program.
When coach Jonathon Barbaree looks at his 11-player squad this season, he sees a team he expects to eclipse last season's 13-17 mark with only three returning players.
He began the 2014-2015 season with seven players, and added a few more around Christmas to make a more complete team. For the 2015-2016 season, Barbaree is starting with a full deck.
"I'm definitely excited about the team. We are so much better than we were last year," he said.
But with so few returning players and coming off a losing record, expectations are not high for Lady Mariners among the other NAIA Southern States Athletic Conference coaches. They picked Coastal to finish eighth in the conference.
"It definitely, for the girls themselves, they tend to see it as an eye opening thing," Barbaree said of the preseason poll. "But I always laugh at (the polls). I don't take them too seriously."
Especially since nobody has seen what his squad can do yet. A lot can happen during a season. Last year is a prime example, he said.
"We finished out better than we started," Barbaree said. "This year, having 11 bodies from the beginning and being able to have 5-on-5 at practice is going to help."
Among those 11 are two junior college transfers and two transfers from Georgia State, which plays in the NCAA's Sun Belt Conference. Their experience will be invaluable to a team that boasts just two seniors. One of them, point guard Gabby O'Sullivan — of Perth, Australia — will be the floor general who makes the offense work.
"She gets it and goes," Barbaree said. "She has an engine that just doesn't quit. She is going to get us in our system. She defends 90 feet and she gets after it."
Senior Janne Tullius, a 5-foot-11 guard from Hamburg, Germany, played in all 30 games in the 2014-2015 season, starting 20 of them. She will also be key in getting the offense going.
But for Barbaree's squad to have success in his second season at the helm, the transfers will have to step up, he said.
"I am leaning heavily on expecting (the transfers) to do some things for us," he said. "But honestly, it is wide open in practice everyday. No one has really jumped out in front of anyone else."
The Georgia State transfers — junior Jamila Mayfield, a 6-foot-4 center, and junior Ashanti Groover, a 6-foot-3 center — will both be integral in providing some much needed height and rebounding to the lineup. That should make for more second-shot opportunities, something that was lacking last season.
Other junior transfers are Simone Smith, 6-foot-1 center from Gulf Coast State, and Kaci Palo, a 5-foot-4 guard from Andrew College.
Throw in four freshmen and one sophomore, and Barbaree likes this season's prospects, despite what the often uninformed preseason polls might suggest.
"I feel like we have a really good group and a special team," he said. "We are going to earn our ranking at the end of the year. It's up to us to come in and earn our spot. That is how we are going with the whole year."
Last year's leading scorer and the glue of the team, Olivia Melvin, is Barbaree's student assistant this season, so there will be some continuity there as well.
Fans can get a look at what the Lady Mariners can do tonight at the school's Mariner Madness event that starts at 6:30 p.m. at Howard Coffin Gym.