News Archives
Mariners preparing for 2015-2016 basketball campaign
Posted 10/20/2015 09:00AM
By MICHAEL HALL The Brunswick News | Posted: Tuesday, October 20, 2015 12:00 am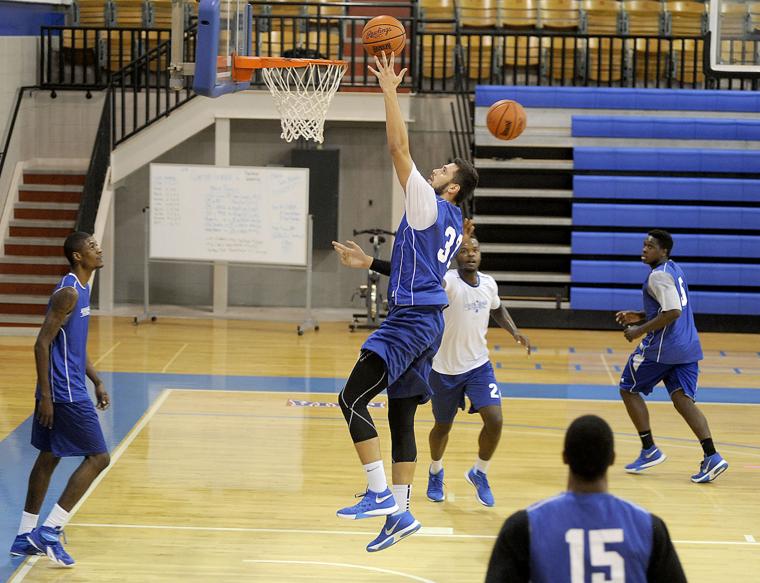 Andrej Tomic, a 7-foot center from Bosnia-Herzegovina, lays the ball up with his left hand at the College of Coastal Georgia basektball practice on Monday. The Mariners, who were voted by conference coaches to finish last in the Southern States Athletic Conference, will host their Mariner Madness event on Thursday at 6:30 p.m.
Jesse Watkins has been more of a chef than anything else this past offseason.
Sure, his title is officially listed as head men's basketball coach at College of Coastal Georgia, a position in which he is beginning his second season. But when it comes to crafting a competitive team, Watkins' job becomes as much about mixing ingredients to get the intended result as it is about the Xs and Os.
"Add a little salt here, a little pepper there," Watkins said with a grin.
When he played under long-time CCGA coach Gerald Cox, when the school was still called Coastal Georgia Community College, Watkins said he saw what a team that plays as a single unit can do. They won the state community college championship his second year. His old No. 42 jersey hangs on the wall in his office.
"We were tied together," Watkins said.
As any good chef must do, Watkins is taking the ingredients he had on the shelf from last year's 4-25 campaign and mixing in some new ones to create what he his hoping will be a winning dish.
"That is what I'm trying to get my guys to understand, if we were all tied together, if we had a rope (connecting us), and somebody came in with a pair of scissors and tried to cut the rope, would you let them?" Watkins said. "We try to make sure nobody gets in our circle and cuts our rope."
While most coaches don't put much stock in preseason predictions, Watkins sees a silver lining in the rest of the Southern States Athletic Conference's coaches picking his Mariners to finish in the cellar.
"I'm glad that they picked us 12th," Watkins said. "That gives us an opportunity to put a chip on our shoulders. It's not how you start, it's how you finish."
And his Mariners will need the chip on their shoulders to finish strong in a conference that includes Dalton State, last season's NAIA Division-I national champions. The Mariners lost their two leading scorers from a year ago in Reggie Burke and Andrew Reid, both of whom graduated.
"When I saw (the conference poll), it wasn't a surprise to me," Watkins said.
He is still getting the players in his second season to fit his motion-based offensive scheme. So far, it is going well.
"This year, I really think I have the guys to help us run the system we want," Watkins said of the offense he compared to what West Virginia's Bob Huggins runs. "Pass it around and make sure we have a good shot. We don't want to go out there and just play. We want some structure to it."
Returning seniors Corey Harris, a guard, and forwards Jamaal Rhodes and Milton Geddes have all worked hard during the offseason to get stronger and to learn how best to succeed in his system, Watkins said. The 7-foot big-man Andrej Tomic, of Bosnia-Herzgovina, also returns for his senior season.
"Those guys made a vast change to make themselves a lot better," Watkins said.
He also brought in some experience from winning junior college teams in transfers Dominic Early, a senior forward, Marquice Jones, a junior guard who is from Brunswick, and Derrick Frye, another senior forward.
Jones and Geddes in particular will be anchors on defense, where Watkins said, "we want to get in your face."
"They know how to win," Watkins said. "A lot of my guys come from a winning program."
So he knows they have won before. Now the trick is getting them to win together.
If his recipe turns out like he thinks it might, Watkins said his Mariners could turn some heads this season.
They will play a scrimmage at 5 p.m. Saturday against South Georgia College in Waycross.
On Thursday, fans will get a first-look at the Mariners as they play a full-on scrimmage against each other at Howard Coffin Gym during the Mariner Madness event to kick off both the men's and women's seasons.
The event will feature a 3-point shooting and a dunk contest as well.