News Archives
Brunswick Stewdio acting as artistic home for students at the College of Coastal Georgia
Posted 10/12/2015 10:00AM
By ANNA HALL The Brunswick News | Posted: Monday, October 12, 2015 12:00 am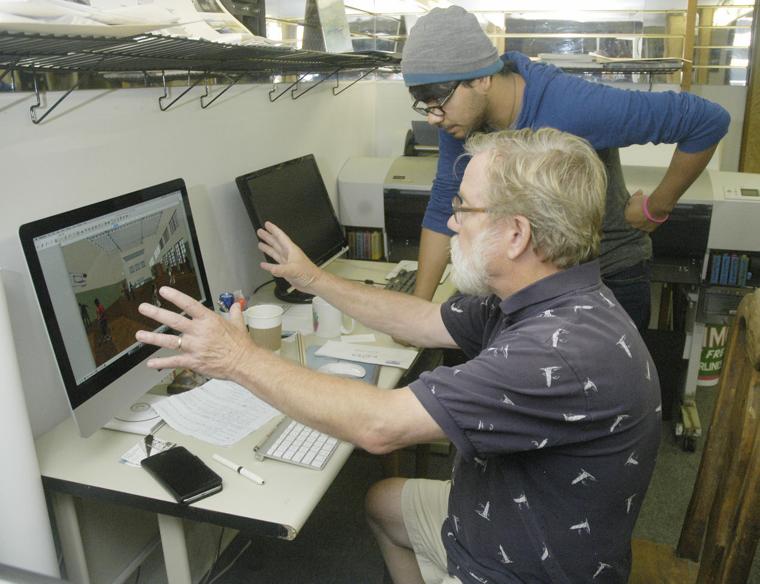 College of Coastal Georgia art student Manny Julian looks over the shoulder of the Brunswick Stewdio's Harlan Hambright Wednesday before class. Hambright's studio is hosting art classes from the college to introduce students to a variety of influences, in this case, 3D graphics.
Jerry Luke stood before a captive audience, explaining the methods of controlled madness he uses to create his layered, larger-scale artwork pieces that can be described as realism, surrealism and abstraction, all on one framed palette.
Luke, who has taught classes in studio art at Waycross College, humanities at Savannah State University and is currently teaching art appreciation at South Georgia State College, stood in as a short-term professor Wednesday for art students from College of Coastal Georgia.
The more than 20 students in the college's art program are taking part in a new academic partnership between the college and the Brunswick Stewdio at 1407 Newcastle St.
Owned and operated by area photographer, author and artist Harlan Hambright, the Stewdio is an open space where artists from a variety of mediums ranging from fiber arts and puppetry to graphic illustration and painting interact with each other.
The partnership was made possible by a gift from an anonymous donor to the college foundation, and classes are held from 1 to 3:30 p.m. every Monday and Wednesday, Hambright said.
Hambright opted to open the large-scale, two-story studio up to the college to spark a collaboration between the college and downtown, in hopes that even more college courses will one day be held in the historic space, he said.
"We have 33 artists in this studio and we know these are experienced artists who can influence students and help them get on the right path with their artwork," Hambright said. "The interaction between these students and our area artists can have a great impact on their future careers."
Manny Julian certainly sees it that way. As a student in the college's art institution, a two-year program through which students can earn their associates degree, Julian aspires to take on a career in 3D illustration and graphics. Through his weeks of studying at the studio with Jeff LeMieux, associate professor of art in the School of Arts and Humanities at the college, he has already gained a greater understanding of shadow illustration and color scaling. He also has worked with Hambright on grasping the details of computer imaging. Those skills, he said, will go a long way in helping him achieve his overall goal of being a gaming graphic designer.
"I love video games, and the way artists can make their figures look so real, look so defined, that's so interesting to me," Julian said. "We're learning from area artists how they use their own skills to be professionals in their field. It's been really inspiring these past few weeks. I think downtown and the college coming together is a really great idea. I know I like it a lot."
Classes in the downtown art program began at the start of fall semester, and will continue through the spring with a second session, Hambright said. Hopefully, he said, the courses and the downtown collaboration will become a mainstay within the school.
Art student Ashelee Nunn says she has felt inspired through the program as it has lit a new spark in her for designing architecturally based and scaled design. Now in her final semester with the art program, Nunn is looking toward the future. Seeing the well-preserved landscapes of the downtown portion of the city has been an enlightening part for her outlook to the future, she said.
"I entered the art program knowing I wanted to do something in that field, but now, after these courses downtown, I've come to see that this field can be in more than just the drawing and illustration works I've always done," she said. "There can be more to it and that has been very helpful in planning out my own future."
What Hambright has seen so far with the joint effort, the exposure students have with downtown inspirational resources such as art exhibits at the Ritz Theatre, historical architecture and the current movie set being built for the film "Live By Night" being directed by Ben Affleck, have all been major boons to the project.
"These students are really being given a huge range of spectrums from which they can draw vision and inspiration," Hambright said. "With all that is happening downtown, from the new movie being filmed to the classic restored homes and our city's art studios, there are so many outlets we can showcase for our students. There is a lot for them to see. There are a lot of area artists they can learn from. And there is a huge bucket to dig into to help these art students find their passion.
"This has been a great and well-supported collaboration and we're excited to see where it goes from here."